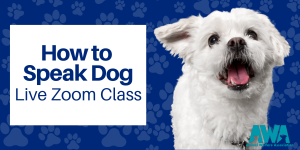 Have you ever wondered what your dog is thinking? Or wondered why he is always sniffing the ground? 
It might not be what you think.  In this 45 minute class you will learn how dogs communicate.
You will learn what happy, fearful, stressed, aroused, angry/aggressive, and reactive look like. We will discuss why they might feel that way in different situations.  You will also learn what appeasement and displacement gestures are and why they occur.