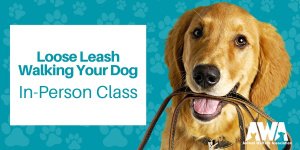 Does your dog pull hard on the leash? Does he look like a kite attached to a string?
If so, this is the class for you! This forty-five minute long class will focus entirely on loose leash walking. It will give you the tools to work on pulling on your daily walks. Loose leash walking is one of the more challenging behaviors to teach your dog because pulling is a self-rewarding behavior.
Tuition is $20 and will be held in the AWA parking Lot. You must sign up for the class in advance.