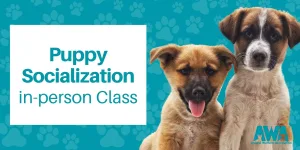 There are many benefits to training and socializing your puppy. Socializing your puppy greatly reduces the chances of your puppy developing behavior problems when they reach adulthood.
We will be learning easy and fun ways to teach our puppy basic companion behaviors while experiencing different many stimuli.  In addition to learning how to safely socialize your puppy to new experiences.  We hope that you enjoy the hour-long class. 
Perform sit, down, stay with distractions like a skate board, wheel chair, cane…
Introduce husbandry items to the puppy (nail clippers, brushes, clippers)
We will introduce different noises, people, and substrates.
Hats, raincoats, parkas, sunglasses…will be worn by participants throughout the class
Fully vaccinated adult dogs will also be introduced in the class

If you have any questions about the class please feel free to contact the AWA behavior team at Behavior@awanj.org
(Please teach your dog sit and down before attending this class.)