[vc_row][vc_column][vc_tta_accordion active_section="0″][vc_tta_section title="Woodstock" tab_id="1491466787931-e1559c77-7544″][vc_column_text]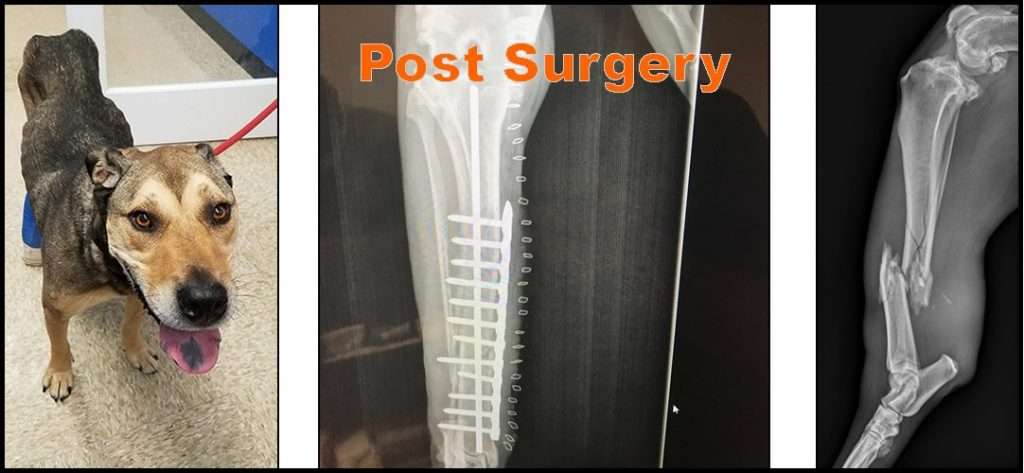 Update 9/13/17: Woodstock has begun his physical therapy treatments. He loves the underwater treadmill. He's also gained a good amount of weight. His PT treatments will continue for another two weeks. We're all pleased with his progress!
Update 8/8/17: Our boy Woodstock, who's being fostered by our behavior coordinator, got a check up yesterday by our vet. He's progressing very well. Thank you, to every one who has supported this boy and to the kind ladies who brought him in.
Thanks to your generous donations, we were able to meet and exceed our goal for Woodstock! His surgery went very well and our vet partners at Mount Laurel Animal Hospital are monitoring his recovery and keeping him comfortable. He is doing well in his foster home, where he gets a few short walks a day and lots of cage rest, as per the doctor's orders. He also gets love and affection during supervised relaxation time, and is being fed a nutritious diet to help him gain weight safely. We will keep you updated on his progress.
Thank you for your compassion. We couldn't have done this without you.
All funds raised above our goal will help the next homeless animal who, like Woodstock, needs serious medical attention in order to save its life.
His original story:
Emaciated. Broken. Suffering. 
Woodstock ran for days in the heat on his broken leg. Starving, dehydrated and exhausted, he collapsed in an alley. Can you imagine his pain and suffering?
Woodstock needs surgery TODAY.
AWA has stabilized him and received a diagnosis of a broken right rear femur and a torn knee ligament in his left rear leg. Amputation is not an option. The surgery will be expensive, and his post-surgery needs include physical therapy, pain medication and a rehabilitation program. He's so emaciated that he needs special nutrition to help him gain weight safely.
All funds raised above our goal will help the next ill and injured animals who come through our doors.[/vc_column_text][/vc_tta_section][vc_tta_section title="Jeta, Griffon, Quincy and Harley" tab_id="1501688641840-102d8b39-dde7″][vc_column_text]

3/12/17
We are thrilled to tell you that Quincy has been adopted! Way to go, Quincy!
3/8/17
Jeta has been adopted! Her foster mom, an AWA staff member, fell in love and just couldn't live without her. Go Jeta!

2/27/17
7 year old Harley has his very own mom! Harley and others were seized from a back yard breeder by the Pennsylvania SPCA after suffering from years of neglect. A big, thank you, goes out to all of you who generous donated so they could be cared for.
2/20/17
Griffon has found his forever home! His foster family decided that they couldn't live without him, and since he had gotten comfortable with them and made himself right at home, this was a match made in heaven!
1/24/17
You did it- you saved their lives! We are thrilled to announce that generous donors like you helped us to surpass our goal and we are able to provide Jeta, Griffon, Harley and Quincy with the medical and dental care they so desperately need. All four are safe and warm in foster homes, receiving lots of love and attention while being treated for their upper respiratory infections. All have been to the groomers and are looking and smelling much better. And our veterinarians have crafted a medical plan for each dog, and will begin to schedule their procedures once the dogs' infections have resolved.
1/17/17
Jeta, Quincy, Harley and Griffon were removed from the home of a backyard breeder after suffering from years of neglect. This is what their lives were like: their tiny paws stepping over piled feces, the air filled with the smell of rancid skin worn from being covered in urine for so long. The noise of whimpers calling for food and attention. All four are old. All four all ill. All need your help to get well.
Harley's teeth are decayed and she has a hernia. She has tested positive for Lyme disease and has an upper respiratory infection.
Jeta is eager for the attention she never had. She has a heart murmur, severe dental disease, and a raspy sound comes from her airways when she breathes.
Quincy and Griffon are nine years old. Griffon has an upper respiratory infection, but beyond that, their medical care may ONLY require blood work, proper nutrition, dental care, time and love.
We hope to raise a total of $2,000- that's $500 for each dog. We want each to become medically sound so they can live out their remaining years being loved, not neglected.
[/vc_column_text][/vc_tta_section][vc_tta_section title="Stella" tab_id="1491466787973-08ef071c-e451″][vc_column_text]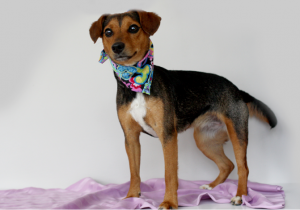 10/30/16 Update:
We are thrilled to announce that Stella has recovered beautifully from her surgery and that her health is stable. She has been adopted into a loving family. We couldn't be happier. Thanks for making Stella's dream come true!
9/7/16 Update:
Stella is now one week post surgery, and she is doing great!  Her murmur has now been gone for an entire week. The incision where they placed the catheter to do the procedure is healing well. She is officially off of her exercise restriction. She'll wear her e-collar for one more week to make sure she doesn't lick it open. Stella has one more recheck echocardiogram in 3 weeks after which she can be spayed.  She's just like a normal dog now. Again we extend our gratitude to Dr. Karen Driben and Red Bank Veterinary Hospital for fixing Stella's broken heart and giving her a second chance at life!
8/31/16 Update:
Stella had her procedure today. Everything went well. She is recovering at Red Bank overnight and will be coming back to us tomorrow. We thank Dr. Karen Driben and Red Bank Veterinary Hospital for giving Stella such amazing care. And we thank all of our kind-hearted donors who made this possible. We'll keep you updated on Stella's progress.
8/25/16 Update: 
Thank you all for your donations. We have been able to schedule Stella's surgery for this week, thanks to your generosity! A very special shout out to Dr. Karen Driben and Red Bank Veterinary Hospital for giving Stella amazing care. We appreciate how they have worked with us to be sure we could get her the care she needs. It takes a community – donors, supportive veterinary specialists, volunteers and staff working together to save the most delicate and deserving creatures. When well Stella will steal someone's heart and run off to live a long life of loving.
Original Posting:
Inside Stella's petite 16lb body, her enlarged heart beats. You can hear the "swoosh, swoosh" of the moving blood, and not the rhythmic "thump, thump" of a normal heart beat. She was born with patent ductus arteriosus – a condition where the blood vessel connecting the two main arteries does not close.
When she gets wiggly, she tires. You can tell she wants to play but her body can't because she has too little oxygen in her system.
At just around two years old, she nearly outlived her life expectancy. Approximately 60% of dogs die within one year of being diagnosed. Her total medical care and surgery can run over $3000. The last dog we aided with this same condition cost over $4500.
After AWA's veterinary team heard her heart murmur, we took her to have an echocardiogram, and consulted with a veterinary cardiologist. She can only live a longer life, one filled with comfort and love, if the hole in her heart were surgically fixed.
The veterinary prognosis for her is extremely poor unless she receives the surgery she needs. Without it her prognosis is too poor for her to be adopted. She could be weeks away from congestive heart failure.
An area veterinary cardiologist has offered to provide Stella with the PDA surgery she needs at a discounted rate.[/vc_column_text][/vc_tta_section][vc_tta_section title="Irving, Kermit and Hugh – Korean Dogs Saved From Slaughter" tab_id="1491467087803-27f33fe6-0ebb"][vc_column_text]
3/20/17:
Hugh's foster parents have become foster failures! It's official. Hugh is adopted!
His foster parents fell in love with Hugh right away but the final decision was their dog Lucky's. Lucky is one of Sarama's ambassadors. She lost both of her canine brothers last year and seemed lonely and sad. When Hugh moved in, she was incredibly happy to have a friend again. It's safe to say that Lucky and Hugh have helped each other. Now they are bffs. All of us here at AWA are thrilled that Hugh has finally landed in the best place possible for him.
02/01/17
Hugh Update:  Hugh is doing really well at Samara Animal Rescue. Laura Miller, the Executive Director of Samara, says, "Hugh has been doing really well! We have noticed some subtle but significant changes in his behavior since he came here. For one, he has learned to settle in the house. He would always settle in the crate but when he was out with us he would walk around a lot. Now he can comfortably rest with us in the house. He was initially scared of the pictures on the TV and other normal everyday things in the house but he is much more comfortable now. He also started to play with toys more. He gets along with all his foster siblings but he and Lucky the pitbull are the closest. They have similar play styles. I think he has helped her just as much as she has helped him. She lost her two brothers within two months so she has been lonely and a little lost recently too. He… seeks out attention by resting his head in our laps… He has also been great with the few visitors (human and canine) we had.
We really didn't have to do much since Kelly and Liz did such a great job with him. We let him go at his own pace and just try to make his new experiences positive and rewarding. He is a joy to have around. We are so happy he's here.
01/12/17
Hugh Update: Tomorrow is an important day for Hugh! Hugh – one of the three Korean Meat Dogs AWA accepted from Humane Society International back in spring 2016,  is about to take another step on his journey to finding his lifetime home.  Hugh's story of survival has taken so many turns – he survived life in a tiny cage in Korea and was then transported to the US before arriving at AWA.   His first experiences – walking on grass, eating yummy treats, being petted, and playing with a dog toy happened at AWA.
AWA's committed team worked to acclimate Hugh to worldly sounds, new faces, and more.  Hugh's adjustment to this new world was not as smooth as the other two dogs.  You may remember he escaped soon after being adopted and for many weeks was fending for himself miles away from AWA,  only to be found within a mile of AWA.  It seemed like his temporary home  at AWA was one place he felt safe.  Yet, a shelter is not a home.  It may be the place he feels safest however he still displayed a sense of anxiety.
Once back at AWA, Hugh was taken over to Univ. of Penn to be seen by their Behavior Services department and was diagnosed by their Chief Veterinary Behaviorist with Environmental Fear. This is a like a phobia. He is afraid of all new things and this fear cripples him. A dog cannot be trained out of fear. Specific behavior management techniques must be used so not to overwhelm or shut down the dog. For this reason, we kept Hugh on a schedule and slowly introduced him to any new sound, person, or place.  When it was too much "new" he would let us know by trying to escape.  This approach was taken to help him stay mentally fit and not be in fear each day he was with us.
As the AWA team cared for Hugh –in the way he needed, they also worked on finding a non-shelter place for him. An ideal home would be a calm home, one that did not have lots of new things happening, one equipped with someone fully trained in behavior modification and had lots of time to be able to introducing Hugh to new things slowly. Last month,  right in our own backyard, a very suitable rescue was found for Hugh. Sarama Animal Rescue, opened a few years ago by  AWA's former behavior coordinator, Laura Miller asked about helping Hugh once some of her rescue dogs found placement.
In preparation for this change,  Hugh was slowly introduced to Laura over several weeks.  Following the Penn Behaviorist's advice, we didn't rush Hugh.  He took a few visits to Laura's home. He sniffed her house, looked around and over a few weeks displayed a sense of calmness when there. Laura and AWA's current behavior coordinator, Liz, worked together so Hugh would feel safe when with Laura.
Their work, and the work and support of the entire AWA team and supporters, brings us to tomorrow.  On Friday, Laura will come to AWA and officially accept Hugh into her rescue.  AWA's connection to Hugh will not end.  His in our heart and we are so pleased to know that Laura will be caring for him.  She will update us often.
Most importantly, Hugh will be in a home.  There will be little change going on around him.  He will have a routine.  His fear of all (the environment) will be minimized. And he can continue to improve at his pace.
09/01/16
Hugh Update: Hugh is still in our care at AWA and we are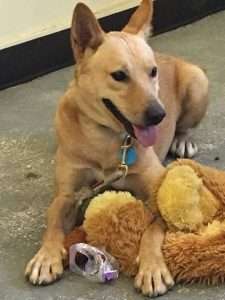 working daily on his real life skills. Our dog behavior team continues to acclimate him to different types of stimuli and situations that he will encounter in the world, as well as give him the love and attention he deserves. He's making great progress on his housebreaking, and enjoys the rewards and praise he gets for each success! Hugh has an appointment in a few weeks at St Hubert's Animal Welfare Center for an evaluation with their Mutts on the Mend program. This free program helps other shelters with ideas for improving behavior and quality of life for dogs that need work. AWA remains committed to his well-being and we will keep you updated here on our Facebook page.
08/02/16
Irving Update: Our boy Irving (Korean meat dog) found his perfect match. Here he is posing with his new family (AWA volunteer). He now has a Husky brother and sister. Reports have been that he's doing very well. He is beating the heat with his new pool.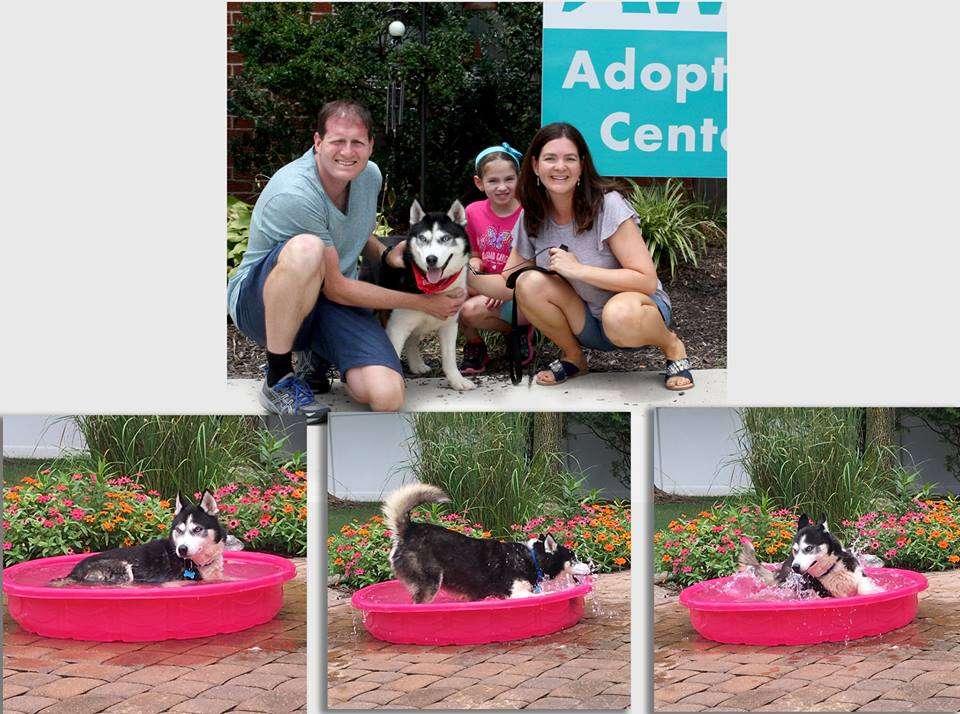 7/05/16
It has been another excellent week!!!  All of our South Korean pups have made great strides this past week.
Kermit
Kermit has had an exciting week! He was adopted by a lovely family and now has his own Facebook page (Kermit Rogers).
Irving
Irving had a good week! He really enjoys going on walks and investigating new surroundings. Irving has been approaching more people for physical attention.  Irving is still not in love with people physically touching him, but he is very tolerant of it. We did a behavior evaluation on him and will be making him available Wednesday. We also began working on  "real life" skills, like commands and housebreaking, with Irving. He still has a long way to go with his home skills.
Hugh
Hugh had a mixed week. His week started off well, but ended poorly. Hugh was very social all week. We were able to do a behavior evaluation on him and were planning to make him available on Wednesday. However, on Thursday he bit a customer through his kennel. Hugh is now on a 10 day bite hold. We are providing him extra enrichment to try and keep him from spinning in his kennel. We will monitor him closely and revisit adoption after the 10 days are up.
7/01/16
It has been an exciting week for our friends from South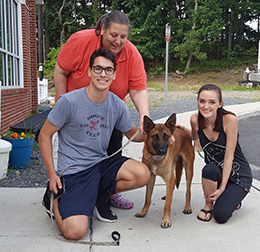 Korea!!! Kermit was adopted this week and Irving will be available for adoption next Wednesday. Hugh is getting close to adoption ready as well. We'll keep you up to date on his progress. See below a photo of Kermit and his new family!
6/25/16
It has been another excellent week!!! All of our South Korean pups have made great strides this past week.
Kermit
Kermit has had an exciting week! He is now being walked by staff members and is enjoying his time outside his kennel.Kermit went to Subaru bring your dog to work day and had a blast.He also went on two trips to Pet Value and loved every second of it.Hopefully he will get adopted soon. Until that time we will continue to work on his obedience and real life skills, like house training.
Irving
Irving had another break through week!  He really enjoys going on walks and investigating new surroundings.Irving has been approaching more people for physical attention.Irving is still not in love with people physically touching him, but he is very tolerant of it.He took a few big steps this week.He went on his first car ride and took his first trip to Pet Value and went to the Subaru event.He did very well.He is a very resilient dog.  Next week we plan to evaluate him and place him up for adoption.
Hugh
Hugh has finally enjoys running around, stretching his legs, and really playing with other dogs. He still gets a little startled when people touch him and he does not see them coming. However, he has been going up to everyone and looking for chin scratches. Hugh even went for a car ride and a trip to Pet Value this week. He did great! Next week we will be bringing him to new places and meeting new people.We will also be evaluating him and placing him up for adoption.
6/18/16
It has been another excellent week!!!  All of our South Korean pups have made great strides this past week.
Kermit
Kermit has had an exciting week! He is now being walked by staff members and is enjoying his time outside his kennel. Kermit went to Sips for Tips and did exceedingly well with all the new people and sounds. But most importantly, he had a behavior evaluation and was made available for adoption.
Irving
Irving had another break through week!  He really enjoys going on walks and investigating new surroundings. Irving has been approaching men for physical attention. He approached both Jim and Evan freely for chin scratches. Irving is still not in love with people physically touching him, but he is very tolerant of it. Next week we plan to take him to new places and expose him to new people.
Hugh
Hugh has finally gotten over his aversion to substrate other than cement. He now freely walks on grass, gravel, asphalt and sand. Hugh has also come to love the play yard.  He enjoys running around and stretching his legs. In addition, Hugh has become very tolerant of being leashed and enjoys going on walks. Next week we will be bringing him to new places and meeting new people. We will be emphasizing  staying calm in new situations.
6/16/16
Kermit will be available for ADOPTION this Friday!
He is one of the three Korean Meat Farm dogs AWA has been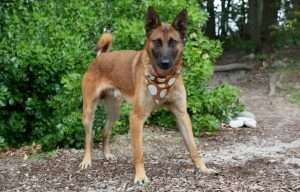 rehabilitating with the ultimate goal of having them all adopted into new loving homes. Kermit just surpassed everyone's expectations with how quickly he's adjusted to life outside a wire cage. He relishes in his new world – playing, running, gentle patting. He has some very specific needs and finding him the best home possible is AWA's utmost goal. Come to AWA to learn more. Hugh and Irving (the other two dogs) are making good progress. We hope to provide their adoption updates next week.
Here are Kermit FAQs and what you should expect during your first days together.
6/11/16
It was an excellent week for all the Korean dogs!!!  We had a few big breakthroughs for Kermit and Irving.
Kermit
Our social butterfly Kermit made his big debuted at Paws and Feet.  He did a thousand times better then we ever could have expected.  He interacted with many, many new people and was not nervous once.  He will be evaluated this week and made available for adoption on Friday.
Hugh
The love bug Hugh has been more and more friendly everyday.  He comes up to people out of the kennel and seeks attention.  Hugh has made great strides with leash walking this week.  He has taken a trip to the play yard, the clinic, the behavior shed and the front lobby.  Hugh even had a bath.  Next week we will be continuing to get him ready for adoption by exposing him to new people and places and attempting basic obedience.
Irving
Our little Husky Irving made great strides this week. He went for numerous walks and trips to the play yard with helper dog Abby. It was then that he was let us pet and brush him. Next week we will continue to desensitize him to being pet, walking on a leash and meeting new people.
6/06/16
We have a great update on Irving! He's starting to make some serious progress. Irving got outside for the first time today since being at the shelter. He's still hesitant to be touched and unsure of himself but he tolerated the leash well and had great time out and about today. Check out this video to see – Irving Gets Out!
If you enjoyed that video here's few more that were created. Dogs Practice with a Leash for the First Time and K Dogs 2.
Click here for FAQs. | Click here if you would like to donate towards their rehabilitation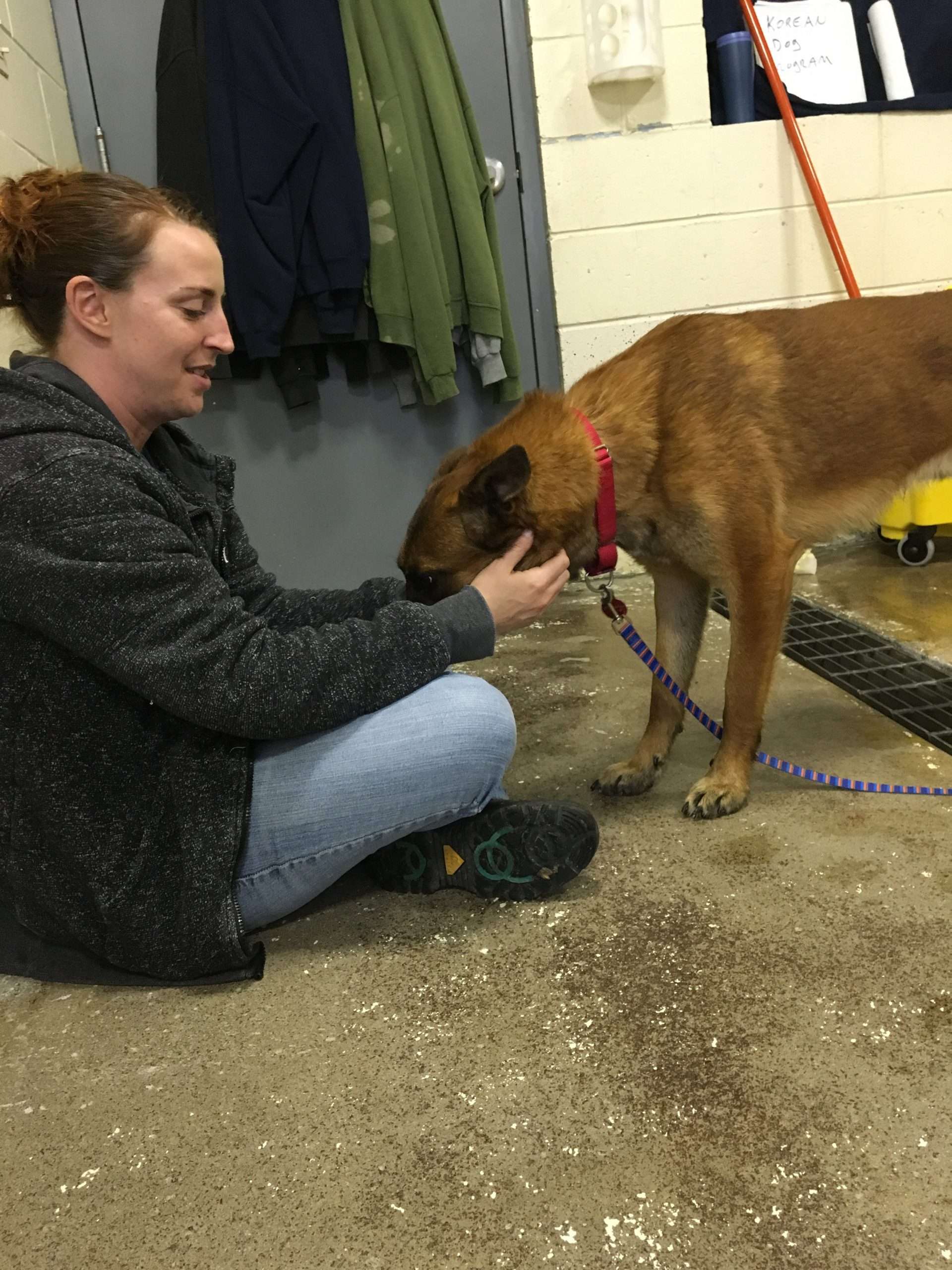 6/04/16
It has been another positive week!  All of the dogs have made positive progress.
Kermit
Kermit went on several long outings this week. He walked the
trail, visited the play yard and behavior shed and had many play dates with multiple dogs.  Kermit seems to be acclimating to the leash and being around different people well.  Next week I hope to have other staff members begin to walk him. Kermit needs to start having interactions, on leash, with other people other than myself.
Hugh
Hugh has been more willing to let us leash and unleash him this week.  Hugh is also approaching more people for physical attention.  He has been exhibiting less of the displacement behaviors he was showing before when around new people. Next week I hope to expose Hugh to  more people and continue to build his leash walking skills.
Irving
Irving had a good week. He let me scratch his chin for a second with both hands and we went for a walk. The walk was not ideal because we had to loop him, but he was accepting of it. Irving is still not crazy about being touched but he will come out of the kennel and take food from your hand freely now. Next week I hope to get a collar on him and get him used to being leashed normally.
Click here for FAQs. | Click here if you would like to donate towards their rehabilitation
5/25/16
Our dogs from South Korea are doing very well. All are on schedule and two are doing so well they are a week ahead of the behavior plan! Currently Liz, our Behavior Coordinator, is working to get them acclimated to wearing a leash so they can go on walks. Liz, believes Kermit is just about ready. Hugh is getting there, but steps on the leash and runs off trying to figure out what it is. Irving still isn't accepting the leash quite yet.
We really appreciate your support for these dogs and will continue to update you of their progress.
Take a look at a video our volunteer Tal put together of them trying out the leash. Dogs Practice with a Leash for the First Time. If you enjoyed that video here's another she created. K Dogs 2.
Click here for FAQs. | Click here if you would like to donate towards their rehabilitation
As they continue to progress through the rehabilitation plan, they will ultimately be adopted by loving families. Below are a few tips and expectations to consider when it becomes time to adopt.
What to Expect During Your First Days Together
It's not uncommon for an under-socialized dog to hide under a couch or table for days or even weeks at a time, only coming out to eat and drink at night. Remember, the more patient and gentle you are, the faster he will come around. Here are some helpful tips to start you off on the right foot:
Give your new dog a crate covered with a blanket as a "safe haven." Reward him for entering the crate with lots of yummy treats.
Keep the crate beside your bed to help him get used to your presence and so he can quietly bond with you while you both rest.
Because he was housed with other dogs he may trust new dogs before he trusts new people. So if you already have a friendly, outgoing dog, he'll be a great comfort to your new dog, as well as a valuable role model. After initial introductions, make sure your dogs have opportunities to spend time together.
Give your dog at least a few days to bond with you and settle in before introducing to strangers. When he seems more comfortable with you, he can start meeting new friends, one or two at a time, in quiet, familiar environments.
5/19/16
Our dogs (Irving, Kermit and Hugh) from a South Korean dog-meat farm are making amazing progress on their special behavior rehabilitation plan!  The plan centers on many tiny steps.  We want to adjust them to their new environment without causing any fear and possible set-back.
Backstory:
These dogs were bred and raised for human consumption. The farming conditions they survived were awful. They had never seen toys, leashes, or known comforting humans. Over the past week we've worked on desensitizing them to human touch through positive reinforcement, each time they didn't run away from a person. This week we celebrated having them – at their comfort level and pace – approach a few staff members to take a treat.
"They are very dog social!" We say that with both joy and sadness in our hearts. They are so social because dogs that aggressed against other dogs or farmers were culled thus "meat dogs" have a gene pool that is more mild-mannered. Yet, this also gives us a way to reach them and help them. We are using a shelter adoption dog, as a helper dog. Each dog is having play time with him. Play is known to decrease stress and just the other day we nearly "jumped with joy" when we saw Hugh pick up a toy, run and play with it! Imagine, the AWA kennels are three-four times the size of the cage he was raised in and aside from a food bowl, he had nothing to mouth or play with.
"We are very pleased with their progress, "shared AWA's Behavior Coordinator Liz Stanley-Reicherter. "AWA is able to commit additional behavior resources – beyond what we have on our team and do each day to these dogs – because of the donations we received.  As they continue on their behavior plans we will continue to share their progress.
Insights into each dog today – 
Kermit (Belgian Malinois mix) is playful and affectionate.  He was the shyest dog when he arrived, but has come the furthest. We originally thought if we kept him in a quieter part of AWA and did some one-on-one time with him, he would progress. Yet, we quickly learned he was much happier among the other dogs. He was comforted by the barks, scents and sight of other dogs. Through the use of dog play, touch desensitization, and connecting people with good things like treats, he now approaches staff more freely and accepts a few pets. He is a charmer too. When he looks at you with his beautiful eyes, your heart melts!  Irving (Siberian Husky mix) is vocal like a husky and curious in what he sees around him. Using the same rehabilitation techniques as Kermit, Irving now makes eye contact when someone approaches his kennel and comes out to investigate people and the play dog. When another dog is out playing and Irving is watching, he gets very excited and howls as if he's saying, "I want to join the fun!"
Hugh (Jindo mix) has progressed the most. Hugh arrived in need of medical attention for a wound on his paw. He received surgery, care and within a few days of behavior rehabilitation (same as above) he now bounds around his kennel with a plush toy in his mouth.  Hugh comes up to humans for short bouts of attention and petting. He has the biggest doggy-smile when he sees a toy and has the freedom of his kennel to enjoy himself.
In just a few days they've made great strides. They still have more work ahead of them. Can you imagine what they think of a leash or collar? It's like putting a saddle on a wild stallion! As we continue providing for these special dogs we will start acclimating them to a leash so they can go for walks. We don't realize how incredible it is that our companion dogs walk on leashes. We believe house-training will be one of the most challenging things to work on. When they existed in their wire-floored kennels, they could not avoid stepping and sleeping in their feces until it was mashed through the wire and left on the ground under their cages.
Each week we will share highlights of their journey from "food product" to family companion. Thank you for donating to help Irving, Kermit and Hugh. Your kindness allow us to devote our team's professional skills and time needed so Irving, Kermit and Hugh can eventually be adopted.
Click here for FAQs. | Click here if you would like to donate towards their rehabilitation
[/vc_column_text][/vc_tta_section][vc_tta_section title="Leland" tab_id="1491469692601-a74d457f-9599″][vc_column_text]
7/23/16
We are thrilled to announce that Leland has been adopted! This special cat found some very special adopters, and we wish them well.
6/16/16
Leland's surgery went very well, and we expect him to recover fairly quickly. He'll be monitored carefully by our veterinary team, and when he has made a full recovery, he will be available for adoption.
5/17/16
Thank you again to everyone who donated so Leland could have surgery to fix the hole in the roof of his mouth. We wanted to share an update. Leland was seen by Dr. Jennings. The consultation went well. Dr. Jennings is confident he is able to repair Leland's palette, and has set Leland's surgery For June 15th. We appreciate Dr. Jennings and VSEC for providing us with a discount on the surgery and for helping us tend to Leland. Leland is a very affectionate cat.  While Leland awaits the surgery the AWA medical team will continue to provide him with special food, clean his mouth and monitor for any infections and control his pain.  Each dollar donated for this is very much appreciated!
5/5/16
We are THRILLED to announce that we have surpassed our goal for Leland's surgery fund! This means that we can get him the help he needs to live pain-free. We're scheduling his evaluation and working on a medical plan for him- and we'll keep you updated. THANK YOU to all of you who donated and shared his posts- you've made the difference in this cat's life!
5/2/16
Leland has a hole in the top of his mouth. This means that every time he eats, food gets trapped in his sinuses which causes pain and can lead to infection. The surgery to fix his hard palette is not something we can do at AWA. The sooner we can raise the funds the sooner we can repair the hole in his mouth so he can eat pain-free. We urgently need to raise $1000 for Leland's surgery.
[/vc_column_text][/vc_tta_section][vc_tta_section title="12 Hoarded Cats: Maisy, Logan, Tristen, Ezra, Harper, Iris, Daria, Connelly, Chanel, Hadley, Broc, and Rowan" tab_id="1491469702913-4c65003f-beff"][vc_column_text]
1/26/16
We are thrilled to tell you that Maisy, Logan, Tristan, Ezra, Iris, and Daria have already found homes! We thank our supporters and adopters for helping us get them into forever homes.
1/3/16
Thanks to animal lovers like you, we've been able to treat the cats' upper respiratory infections and are seeing progress. We are also working on socializing with donated treats and toys, to help the cats become more adoptable. Some of the cats are coming out of their shells, and some will need more time and enrichment to feel more comfortable with humans.
12/22/15
We went to assist a local shelter overwhelmed with an intake of 120 cats from a hoarding case. We accepted 12 ill cats and kittens, some of whom are pictured above. All of the cats have upper respiratory infections and some are infested with fleas and mites. These cats may not even have had names, but now they are safe in the care of our veterinary team. They will need medicine, spay/neuter surgeries, food, and time to heal and recuperate. Some will need extra enrichment and behavioral work to become more socialized and adoptable. All will need time to adjust to a less stressful life.[/vc_column_text][/vc_tta_section][vc_tta_section title="Momma" tab_id="1491469725935-4a853ce6-56f0″][vc_column_text]1/14/16
Momma, now known as Oakley, has joined our "foster

failure" club- her foster mom decided she just couldn't live without her! Armed with information about how to help Momma regain more mobility in her hind end, we predict a long and happy life for the two of them. 1/3/16
We are happy to report that Mamma had her surgery thanks to the many donations from our supporters. Her foster mom reports that she is doing well.
12/22/15
Momma was hit by a car and found by the side of the road, unable to move. Her companion, a younger dog, stayed with her until a good samaritan discovered them and brought them to a shelter. Our vet team has assessed that this sweet two-year-old labrador needs surgery because her pelvis was fractured in the accident, and her left rear leg hurts. She needs to have her ball joint removed so that she can heal properly and live a pain-free life.[/vc_column_text][/vc_tta_section][vc_tta_section title="Percy" tab_id="1491469742844-d067dfcc-8ba6″][vc_column_text]
12/10/15
Percy has been adopted! His foster family fell in love with
him and decided he was going to stay with them forever! We love happy endings like this!
12/3/15
Percy came to AWA just around 6 weeks of age. He was emaciated, ill, and completely blind. We suspect Percy was born with an eye abnormality—his eyes were deformed and shrunken into his eye sockets. Due to his condition, he suffered from eye irritation and infection. Percy survived among his littermates until the age when kittens wean and begin to wonder. Somehow he was strong enough to find food and lucky enough to be found by a caring person who brought him to AWA.
We tended to his illnesses and provided relief to his pain. During his recovery, we noticed his eyelashes continually rubbed his eyes. To make him more comfortable, Dr. Henry removed his eyes.
Blind cats do very well in calm households. We know Percy will find the perfect person to love him.
Support saving lives. Support AWA with a $10 or $20 donation, now.
[/vc_column_text][/vc_tta_section][vc_tta_section title="Diana" tab_id="1491469758821-3d61fc6d-fc62″][vc_column_text]
12/11/15
We are happy to report that Diana has been adopted! Enjoy your forever home, Diana.
11/3/15
Thank you all for your kind donations! Diana is on the mend after a successful surgery, and is resting comfortably on pain meds until she can get cleared for adoption!
10/30/15
I have suffered terribly in my young life. I broke both of my
forelimbs. One break sent the bone right through my skin. It was sticking out through my leg. I was trying to walk on my elbow but it was extremely painful because the bone would get bumped each time I hobbled. I lived like this for so long that the wound became scabbed and calloused. Somehow I survived the fractures and the infection. The AWA vet team at moved quickly to give me pain meds and to take care of me. I've suffered and survived so much – – can you donate $10 for me and my heroes, the AWA vet team who do all they can to care for cats like me? After all, another injured or ill cat will come in tomorrow.
[/vc_column_text][/vc_tta_section][vc_tta_section title="Dice" tab_id="1491469772487-f93d7a75-5c28″][vc_column_text]9/30/15
A lovely update from Dice's adoptive family: "Iris (formerly
Dice) is loving her new home. She has such personality! She has mastered the bathroom as well as jumping in and out of the tub! Her favorite thing to do is to play with all her toys and to be held like a burping baby on my shoulder! Thank you AWA!"
9/24/15
We are thrilled to report that Dice's eye removal surgery went well, and she has been recovering beautifully. She was made available for adoption and went home the very same day! Thank you for contributing to Dice and all of the other homeless pets with special needs who we care for.
9/21/15
Dice was born with an unusual & unfortunate condition: her top eyelids never formed, so her eyes were unprotected and became ulcerated. Imagine her pain. We are here for her like we are for all the cats and dogs in desperate need for medical care. With your help we can relieve the physical pain they feel and work hard to help them recover from their mental scars.[/vc_column_text][/vc_tta_section][vc_tta_section title="Frankie" tab_id="1491469793594-013c12ce-c438″][vc_column_text]1/30/16- FRANKIE HAS BEEN ADOPTED!
Frankie has been with us for WAY too long. He went into
foster care to recuperate after rupturing his cruciate ligament in his right knee.
He luckily had two wonderful foster families who made all the difference for this sweet guy. Today Frankie headed home with his forever family. 1/14/16- Sadly, Frankie is still homeless. While he's been loved in his foster homes, he desperately needs a permanent, loving home. Please share Frankie's story and call 856-424-2288 to arrange a meet.
10/25/15– Frankie is ready for adoption! He's doing great and walking on his leg very well. He's still in foster care and available for meets. Call the adoption center to adopt Frankie at 856-424-2288!
9/15/15: Frankie just got back from the vet. Dr. Winkler said everything looks good. They took Frankie's staples out. Frankie is very happy that he doesn't have to wear the collar! Dr. Winkler said that Frankie should get more exercise (walks) and should start to use his back leg more. He is allowed to walk on the concrete but no off leash yet. Dr. Winkler wants to see him back in 4-6 weeks as long as Frankie keeps improving on the use of his leg; or in 2 weeks if not but Frankie seems determined to walk.
9/3/15: Surgery went very well and Frankie is recovering happily in his foster home. A big thank you to Dr Winkler and our vet partner Red Bank Veterinary Hospital for making Frankie's surgery possible and for doing such a great job!
8/31/15: Frankie's surgery day is here! Fingers crossed for a speedy recovery. We'll update you again post-surgery.
8/11/15: Frankie's liver enzymes were high when they ran his pre-operative bloodwork. The vet opted to postpone his surgery Monday and discontinue the pain medication he has been on to let his enzymes return to a more normal level. We will recheck his bloodwork in 2 weeks. If his bloodwork improves we will do the surgery at that time.
8/10/15: Frankie's consultation went very well last week, and today he's getting his surgery! Thanks to your donations, Frankie will be pain-free soon.
7/30/15: Our buddy Frankie is scheduled for his consultation with an orthopedic specialist next week. We'll keep you posted on his surgery plans! Thanks again for all of your gifts to help Frankie get well.
7/23/15: ThAnK yOu!! to our FB friends who contributed toward Frankie's surgery. We have exceeded our goal, which is wonderful because we were only seeking 40-50% of the cost. Every dollar above the goal helps us not only give Frankie the care he needs to be pain free but also allows us not to deplete our medical care funds. This means we can continue providing routine medical treatments, like antibiotics for upper respiratory infections, treating skin infections, etc. We are very lucky!
7/21/15: Meet Frankie, a 7 year old mixed breed who has a torn ligament in his rear leg and hip dysplasia. Frankie is not a candidate for a leg amputation because his backend can't handle the shift in his weight and change in his gait. We are trying to get Frankie the help he needs. While our veterinarians are wonderful we aren't set up to perform orthopedic surgery. Our vet partners have negotiated a discounted rate for his surgery however the estimate still runs $2,000 to $4,000. We have $1000 in our medical fund but need to raise $1000 to get Frankie into surgery as soon as possible so that he can live pain free and go to his forever home. Please donate and thank you![/vc_column_text][/vc_tta_section][vc_tta_section title="Joseph" tab_id="1491469818691-3979948b-7e62″][vc_column_text]September 28, 2015: We are thrilled to say that Joseph was
adopted! We wish him andhis new family all the best.
July 2015
Joseph was in terrible pain. Every time he ate, pain shot through his body because of his dental issues. His pain came from a canine tooth and injured jawbone, and he needed to go to a pet dentist to fix the problems. AWA secured a very reasonable quote for surgery at a vet hospital. Thanks to your donations we were able to get Joseph the surgery he so badly needed and get him out of pain![/vc_column_text][/vc_tta_section][vc_tta_section title="Stevie" tab_id="1491469831858-b8397ad4-6b67″][vc_column_text]June 2015

Stevie needed surgery to remove a ruptured eyeball, and he has only limited vision in his other eye. He was one of 10 sick cats that came to AWA within a week. Thanks to your kind donations, we were able to help Stevie and the other sick cats who needed extra medical attention. Stevie recovered well, and was adopted by a family who loves him just the way he is.[/vc_column_text][/vc_tta_section][vc_tta_section title="Morris" tab_id="1491469846010-62cd9453-d0ed"][vc_column_text]May 2015

Morris was a 3 week old orphan found in a gopher hole and covered in ticks. He needed some help to get well- and thanks to your donations, we were able to give him the nutrition and medicine he needed. Morris came to us during "kitten season", the time of year when hundreds of abandoned and defenseless kittens flood our shelter. Kitten season is full of adorableness but also profound sadness as sometimes they don't make it through our doors in time. Your donations help us save them. Morris has been happily adopted.[/vc_column_text][/vc_tta_section][vc_tta_section title="Dale" tab_id="1491469866081-3609ff1d-2d0e"][vc_column_text]April 2015
We will never know what caused Dale's injuries, but we do know that he made it with the support of generous donors
like you! Your donations helped us reach our goal of $1200 for medical treatment for Dale and 12 other ill and injured cats who came to AWA in one day.
When Dale came to AWA he was suffering from multiple life threatening injuries. His ears were half missing and infected. His front paw was broken and rotting. His tail tissue was dying off. Dale was obviously in pain. He needed immediate surgery to amputate his paw and tail. He needed IV antibiotics to prevent the infection from getting into his bloodstream. Dale recovered beautifully and is happy in his new adoptive home.
He is a survivor. Thanks to generous donors like you AWA helped Dale, Sarah, Samuel, Sandra, Samantha, Sasha, Sketcher, Parker, Adam, Charlie, Count, Countess, and Jaelyn receive life saving medical treatment.[/vc_column_text][/vc_tta_section][/vc_tta_accordion][/vc_column][/vc_row]