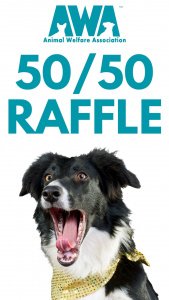 What Ticket Number won the last raffle?
The Summer 50/50 Raffle winning ticket number was #63633
See the live drawing video here: https://www.facebook.com/animalwelfareassociation/videos/197063658452276
When is the Next 50/50 Raffle?
We have 4 raffles this year, Spring, Summer, Fall, Winter (Super 50/50)
Spring drawing is March 18th, 2021
Summer drawing is June 17th, 2021
Fall drawing is September 16th, 2021
Super/Winter drawing is December 16th, 2021
Where are my ticket numbers?
After you purchase your tickets through the link emailed to you after you reserved your tickets you will be emailed your ticket numbers. You will receive them via the email address you provided when purchasing your tickets within a few days at the latest as these are all entered individually by someone in our office. If you do not receive them within a few days after purchase – 1.) check your spam/junk folder, some of our emails end up in those folders, 2.) email info@awanj.org to let us know that you have not received your tickets yet.
Why I can't pay for my tickets/the link doesn't work?
For the Spring, Summer, Fall raffles we have a limit of 4,000 tickets available to purchase to increase the chances of winner for participants. If the link is no longer working it may be because the raffle is now closed and we have sold out. If this is not the case please email info@awanj.org for additional help.
How does the AWA 50/50 work?
Tickets are $10 and can be purchased as a single ticket quantity. More than one ticket can be purchased per transaction. The more tickets you purchase, the greater your chances of winning. We will only be selling 4,000 tickets for this raffle for the Spring, Summer, and Fall 50/50 Raffles.
Due to COVID-19 restrictions, ticket sales will be available online only for this Raffle. (Sales will not be done in person at the shelter or events as they have in the past.)
There are limited tickets that will be sold and will be sold up until the day before drawing or until sold out.
IMPORTANT: After you reserve your tickets you will receive a link to pay, you must pay for the tickets and then you will receive your ticket numbers via email.
How will the funds from the 50/50 Raffle be used?
The funds raised from AWA's 50/50 Raffles goes towards AWA's lifesaving programs such as medical care, spay/neuter surgeries for our shelter animals and adoption programs.
What are the gaming rules and information?
No one under the age of 18 years is permitted to participate. If gambling is a problem for you or someone in your family, Dial 1-800-GAMBLER. Control Commission ID #513-4-21292 . Municipality Raffle License #654-20. Prize awarded will be 50% of the total proceeds accrued during the raffle period. The net proceeds of the raffle will be devoted to AWA's Adoption Program. The price of a ticket share to participate in the raffle is $10 per ticket.
Click Here for the State Rules for Legalized Games of Chance