Serving our members of the military with Pets For Patriots
Serving in the military is all about loyalty: to our country and its values, to your unit, to your brothers and sisters in arms. In that same spirit, we provide our member Patriots with long-term support for a four-legged friend. A friend who's dedicated to your happiness from the moment you give it a second chance at life. We think that's a pretty special friend.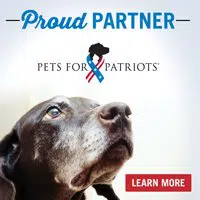 Animal Welfare Association (AWA) has partnered with Pets for Patriots, Inc., a not-for-profit that connects last-chance shelter pets with our country's loyal service men and women, to increase the adoption of adult and other at-risk homeless pets by veteran and service members of the United States military.
Working with Pets for Patriots, AWA gives local veterans, service members and their families the gift of unconditional friendship and love while providing millions of dogs and cats a second chance at life.
Individuals are welcome from all United States armed forces and at any stage of their careers.
Eligible pets must meet one of three criteria: dog or cat two years or older, dog over 40 pounds regardless of age, or a special needs dog or cat.

$150 contribution via gift card to a national pet store retailer from Pets For Patriots charity. This one-time contribution is to help make the initial purchase of pet food, supplies and other essentials easier on your family budget and help make the overall costs of a companion pet more affordable.
AWA provides free ID tag and month-supply of flea/tick prevention medication
Pre-adoption outreach to see if you need help or have questions prior to pet adoption
Post-adoption follow up to make sure your honorable adoption is going well and to offer information or resources if you need help.
Post-adoption discounts on high quality veterinary care from locally partnering veterinary hospitals and clinics
Post-adoption discounts on various pet goods, such as food, supplies, medication and pet health insurance
VISIT PETS FOR PATRIOTS TO LEARN MORE TODAY