Boy Scouts and Girl Scouts alike can visit the Animal Welfare Association facility for all their animal-related scout badges!
Scouts will play educational games, create enrichment for our animals, learn how AWA gives back to the community, and find out how they can make a difference in the lives of animals.
Earn Animal-Related Scout Badges
Our programs follow Boy Scouts of America and Girl Scouts USA guidelines to allow opportunities for local South Jersey scout troops to earn the animal-related scout badge of their choice.
Boy Scout Badges
Cub Scout Critter Care Adventure *Some requirements must be fulfilled independently*
Dog Care *Some requirements must be fulfilled independently*
Veterinary Medicine *Scouts must research workbook requirements and come prepared to discuss. Scheduling limited to Veterinarian availability*
Girl Scout Badges
Daisy Rosie Petal

Daisy Animal Observer

Brownie Pets

Cadette Animal Helper's

Senior Voice for Animals
Costs and Attendance
$10/Scout – 90 minute Program
$15/Scout – 2 hour Program
Leaders choose which time fits their troop and badge best
3 Leaders free
5 Scout minimum on weekdays, 10 on weekends
30 guest maximum
Programs can accommodate mixed ages groups and multiple badges. Scouts who cannot earn a specific badge will still earn their AWA badge.
Dates and times are flexible! Please contact us if your preferred time is unavailable. We will do our best to accommodate.
Want to learn more?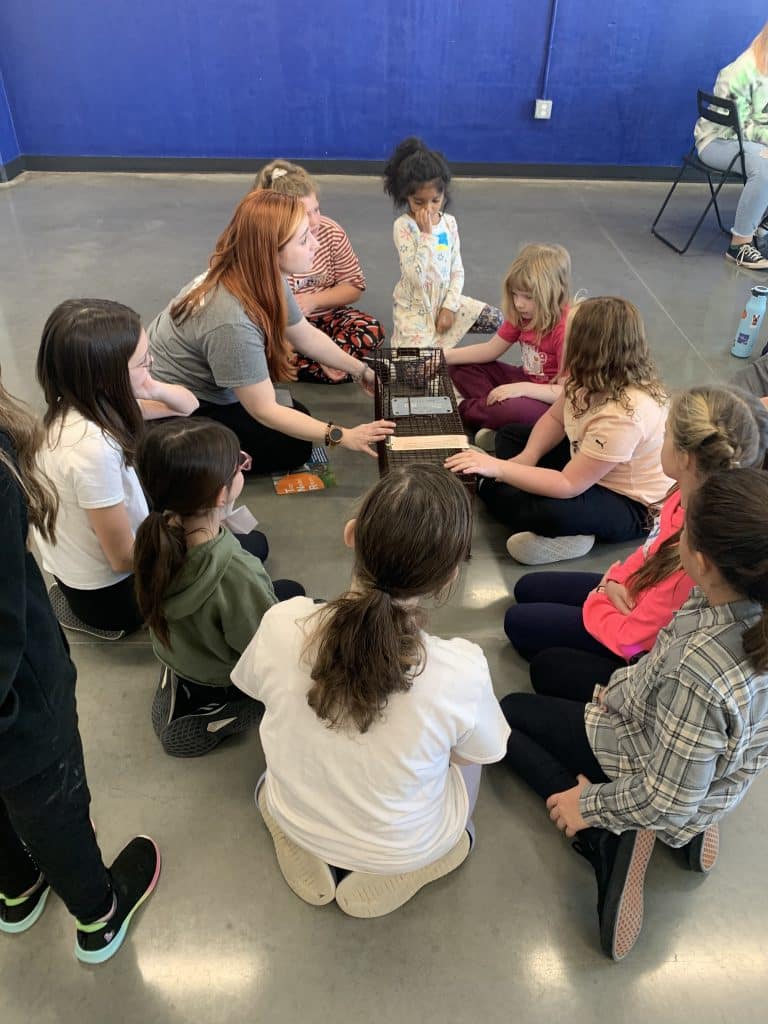 Our Merit Badge Counselor
Our Education Coordinator, Rachel Rowen, is a certified Merit Badge Counselor for the Boy Scouts of America.
She is one of only 2 Veterinary MBCs in the Garden State Council, and can directly sign off on both the Veterinary Medicine and Dog Care Merit Badges.
She has been a key to the expansion of our Education Programs, coming to AWA with over 20 years of animal experience. Her favorite part about her role is making an impact on the next generation of Animal Advocates.
Choose an available date and time below to place a temporary hold. You will be directed to complete payment once the date is chosen.
*Bookings are NOT final until payment is received.
How many guests can attend?
There must be a minimum of 5 scouts, and a 30-guest maximum, including leaders.
How long is the visit?
We can meet most badge requirements in 90 minutes. Some badges may require scouts to do additional steps at home.
Does AWA provide the badges?
We provide our own AWA patch for all scouts!
Is there a dress code?
Guests must wear closed-toed shoes.
Is there a minimum age?
All ages are welcome! However, any children under 5 must be accompanied by a guardian at all times.
When touring the facility, children under 5 must be carried or have their hand held.
What is a child has allergies?
We should be alerted to dog and cat allergies so we can refrain from entering those specific spaces. 
Please not that peanut butter is used throughout the facility.
Can you accommodate special-needs visitors?
Of course! We're always happy to meet the needs of our guests. 
Please contact our Education Department to let us know how we can provide an accessible experience for all.
AWA Youth & Education Programs