Animal Welfare Association offers group and private training lessons that have helped pet owners in South Jersey, Philadelphia and more.
Our Certified instructor will give you and your pet the tools to successfully learn new skills or work on correcting old behaviors.
Our group classes are offered in a 3-week series or single sessions. 
Each series allows you to create, observe and sustain positive behaviors in your pet and make progress at home before coming back to learn more.
Single-session classes work on improving specific behaviors and getting your pet ready and trained to excel in scenarios that are common issues.
Our experts will teach you and your dog the foundational skills, including sit, stay, heel, and more.
Work on loose-leash walking, including tips and tricks for successful daily walks
Our Well-Mannered Dog and Pub-Ready Pooch classes will ensure your pup behaves in pet-friendly public spaces.
Our Certified Instructors give you and your dog the tools and confidence to develop a reliable recall command.
If your dog jumps, chews, acts aggressively, or has any other issue that concerns you, we can help!
Come in for a consultation and we can help with any issue you're having with your pet, and set them on the path to success!
Have a behavior issue with your dog that's been difficult to crack? Does your dog have trouble focusing or behaving when other dogs are around? Just want hands-on, 1-1 training?
Our private behavior and training lessons are for you!
Private lessons are appropriate to address issues big and small, or just teach your dog new behaviors that can last a lifetime.
These lessons are available for either 30 minutes or 1 hour.
Lessons cost $50 for half an hour and $100 for an hour.
*Note: to book 1-hour lessons, please add 2 consecutive 30-minute lessons to your cart. Subject to availablility.
Elizabeth Stanley-Reicherter CBCC-Ka, CPDT-Ka, SBA – AWA Manager of Behavior Support and Training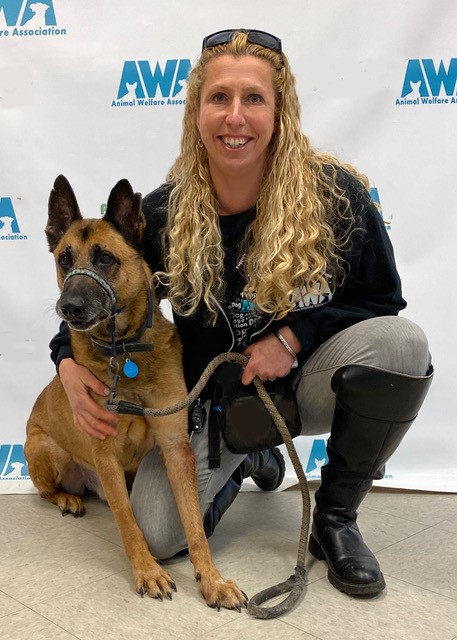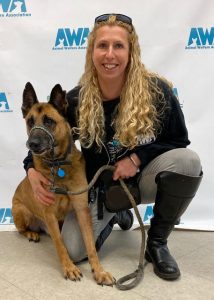 Liz is a certified behavior consultant canine (CBCC- KA).  She is one of only 402 in the world.  Liz is also a certified professional dog trainer (CPDT-KA) and canine good citizen evaluator with a degree in Anthropology from New York University.  She specializes in finding solutions for behavioral challenged dogs, cats and small animals.  Liz designs and implements effective behavior modification plans to achieve behaviorally health animals within the shelter environment.  Ensuring the animals at AWA stay mentally and physically healthy is critical to AWA's work.  To this Liz also teaches community workshops and public dog training classes.
The topics covered in AWA's community workshops are diverse:  Listening to Your Dog for Girl Scout to Zoom sessions at Medford Leas about Clicker Training Cats to Proper Leash Walking and At Home Enrichment Toys 101 for the public.  The love of teaching others has helped Liz in her designing AWA's staff and volunteer training program as well as in developing a future dog trainer mentoring program for college students.
Before joining AWA in 2015 Liz was an independent dog trainer focusing on problem behavior solving at the Dog Lady Dog Training.  She also volunteered and assisted with behavior modification at an open-admission high volume animal shelter on Long Island, NY.  With a strong focus on behavior and behavior modification she was able to increase the number of animal lives saved and lower animal relinquishments to that animal shelter.
Liz loves learning.  Her goal is to eventually secure the title of "Behaviorist," a title reserved for only a few hundred trainers in the US.
When away from AWA Liz enjoys time on her farm with her son, husband and a house and barn yard of animals.
If you have any questions about the class please feel free to contact the AWA behavior team at [email protected]
Abby Pukenas - AWA Behavior Assistant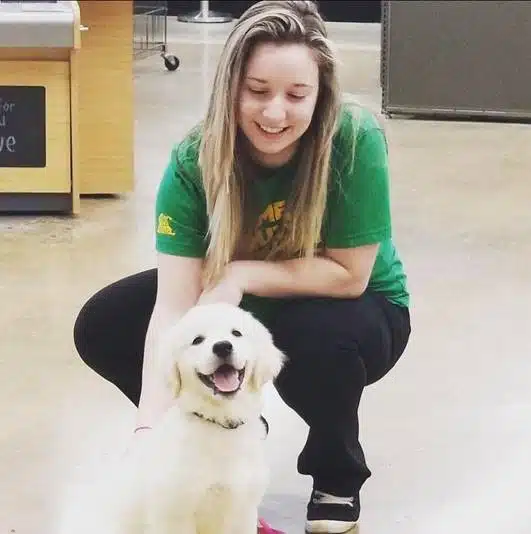 Hi! My name is Abby and I am the Behavior Assistant here at the Animal Welfare Association.
I'm a lover of all animals! I have been working primarily with dogs in a professional training setting for over 4 years and I am currently studying at CATCH Trainers Academy to further my education.
I am always curious and eager to learn everything I can about animals to help better understand them. Learning about and helping animals is my passion!-