NOTICE
While we're still accepting sponsors for Paws & Feet, as of 4/14/2023 we can no longer add more sponsor logos to the event t-shirts and banners. 
Interested in sponsoring AWA's largest event of the year? We'd love to hear from you! Below you'll find all of the details and benefits of becoming a sponsor for AWA's Paws & Feet 5k Run/ Walk and Doggie Fun Day.
If you're interested in becoming a sponsor or have other questions, please reach Meggin Olivo at [email protected] or (856) 424-2288, ext. 113.
Why You Should Sponsor Paws & Feet
Becoming a sponsor for AWA's Paws & Feet 5k Run/ Walk and Doggie Fun Day is a great opportunity to get exposure for your business. Hundreds will be expected to participate in the 5k, and even more will be in attendance to take in the day's activities. Other ways becoming a sponsor helps advertise your business include: 
Exposure to over 270k social media followers when featured on branded Paws & Feet posts
Opportunities for logos on shirts, signage and more before, during and after the event
Emotional branding to show your business cares about supporting important causes
Paws & Feet 2023 Event Sponsorships
There are multiple sponsorship opportunities for your business to be featured during Paws & Feet. Each level has its own set of benefits.
Presenting Sponsor - $5,000
Event naming opportunity
On-site promotional space
Logo on all printed and digital materials throughout promotion of Paws & Feet
Logo on signage and programs at event
Logo on AWA website's Paws & Feet pages
Logo on Paws & Feet t-shirt for all participants
Company-focused email blast and social media post (over 270k social followers)
Note: Only one presenting sponsorship available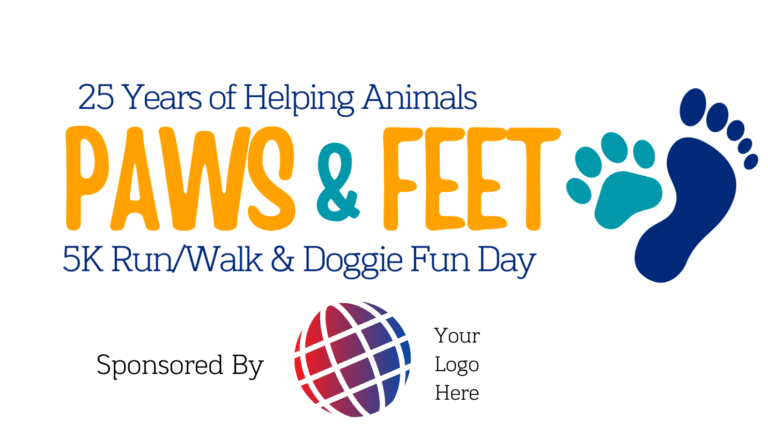 Platinum Paw Sponsor - $2,500
Zone naming opportunity: Dog Zone, Kids' Zone, Marketplace, 5k participant bib, Rescue Ramble
On-site promotional space
Logo on all printed and digital materials promoting Paws & Feet
Logo on signage and programs at event
Logo on AWA website's Paws & Feet pages
Logo on Paws & Feet t-shirt for all participants
Company-focused social media post (over 270k social followers)
Gold Paw Sponsor - $1,500
Area naming opportunity: Bounce House, Demo Ring, 5k Hydration Station, Staff t-shirt, Runner Recovery, Pooch Pool Party
On-site promotional space
Logo on all printed and digital materials throughout promotion of Paws & Feet
Logo on signage and programs at event
Logo on AWA website's Paws & Feet pages
Logo on Paws & Feet t-shirt for all participants
Silver Paw Sponsor - $750
On-site promotional space
Company acknowledgement on all printed and digital materials throughout promotion of Paws & Feet
Company acknowledgement on signage and program at event
Company acknowledgement on AWA website's Paws & Feet pages
Company acknowledgement on Paws & Feet t-shirt for all participants