Save the Date May 6, 2023! @Voorhees Town Center
Wondering When and Where Things are Happening at Paws & Feet 2023?
Virtual Map of Paws & Feet
Scroll or pinch to zoom. Click an icon to learn more about what's located at each station.
What Is AWA's Paws & Feet 5k & Doggie Fun Day?
Animal Welfare Association's signature annual event, the Paws & Feet 5k Run/ Walk and Doggie Fun Day is a community event celebrating the unbreakable bond between humans and their pets.
It's a day full of fun activities for the whole family, including your furry best friends! We'll have live entertainment, local small business vendors, children's activities, food and drink from local favorites, and more!
Proceeds from the event go directly to funding AWA's lifesaving programs, which touch tens of thousands in our community each year.
Paws & Feet 5k Run/ Walk and Rescue Ramble
The headlining events of the day are the Paws & Feet 5k and this year's new and improved Rescue Ramble. You can sign up to run in our 5k and go for a personal best time, or take it easy and walk it with your pup and just enjoy the sunshine.
The Paws & Feet Rescue Ramble is a shorter stroll focused on fun for all. Participants are encouraged to dress themselves and their pets up in hopes of winning prizes for best costume and more while enjoying a walk around the Paws & Feet grounds!
Ready to Register?
Click below to register for the Paws & Feet 5k Run/ Walk, Rescue Ramble or to donate!
Shopping
Food and Drink Vendors
Children's games, funhouses and more
Tito's Vodka Tasting Lounge
Doggy Days Demos (frisbee, tricks, agility)
Dog Agility Course
Doggie Pool Party
Facepainting (for humans, of course!)
Basket Raffle
Doggie Contests – Costume, Owner / Dog Look Alike, Peanut Butter Licking, Best Tricks
Learn about AWA's Programs – Tales with Tails, TNR, Education, Community Outreach etc.
Lots of chances to meet new animals!
… and so much more!
Register for the 5K or Rescue Ramble
Fundraise solo or put together a team to raise money for homeless animals – AND WIN PRIZES! 
Become a Vendor – Sell your products or promote your business
Become a Sponsor for specific activities, areas and more. Contact [email protected] to become a Paws & Feet sponsor.
Buy a Program Ad – given to all attendees
Donate to Basket Raffle – gift cards, gift certificates, tickets, merchandise and more please contact

[email protected]

Volunteer – Opportunities before, during, and after the event. Contact Stephanie at

[email protected]

Attend Paws & Feet!!! If you don't want to participate in the race you can still come and enjoy the day with us! Donations are not mandatory but are appreciated!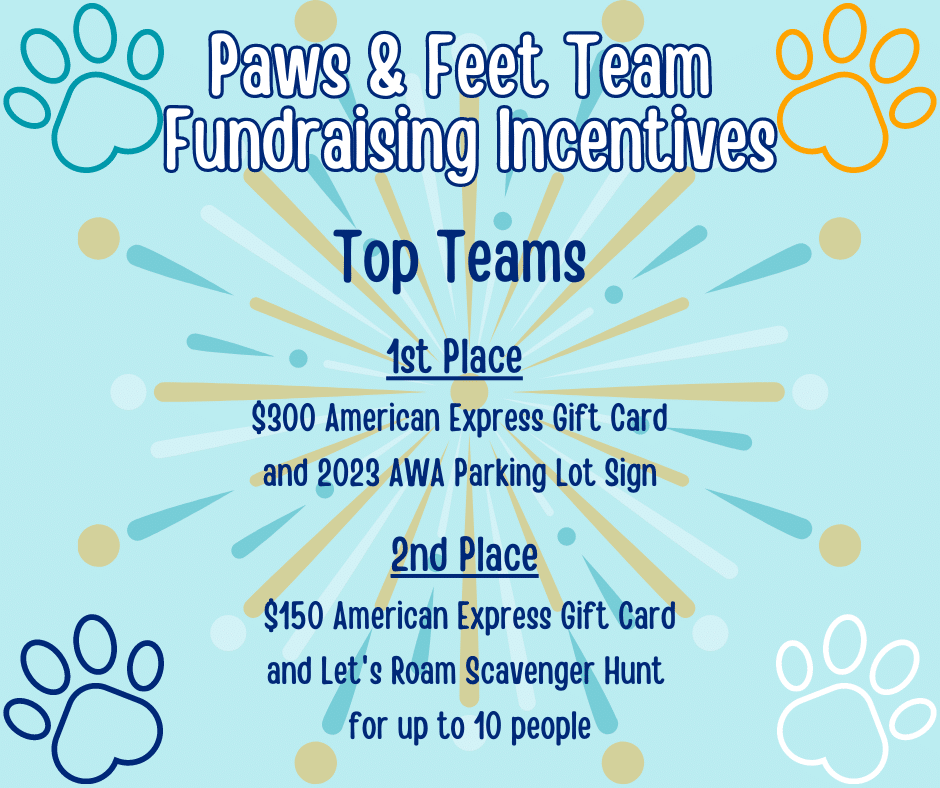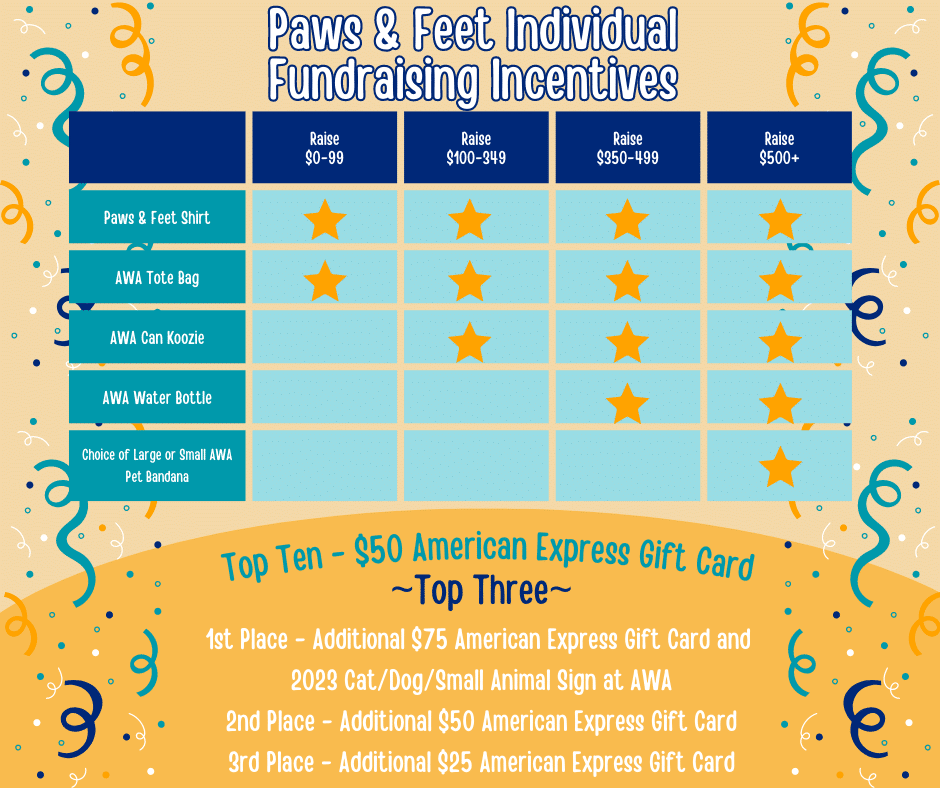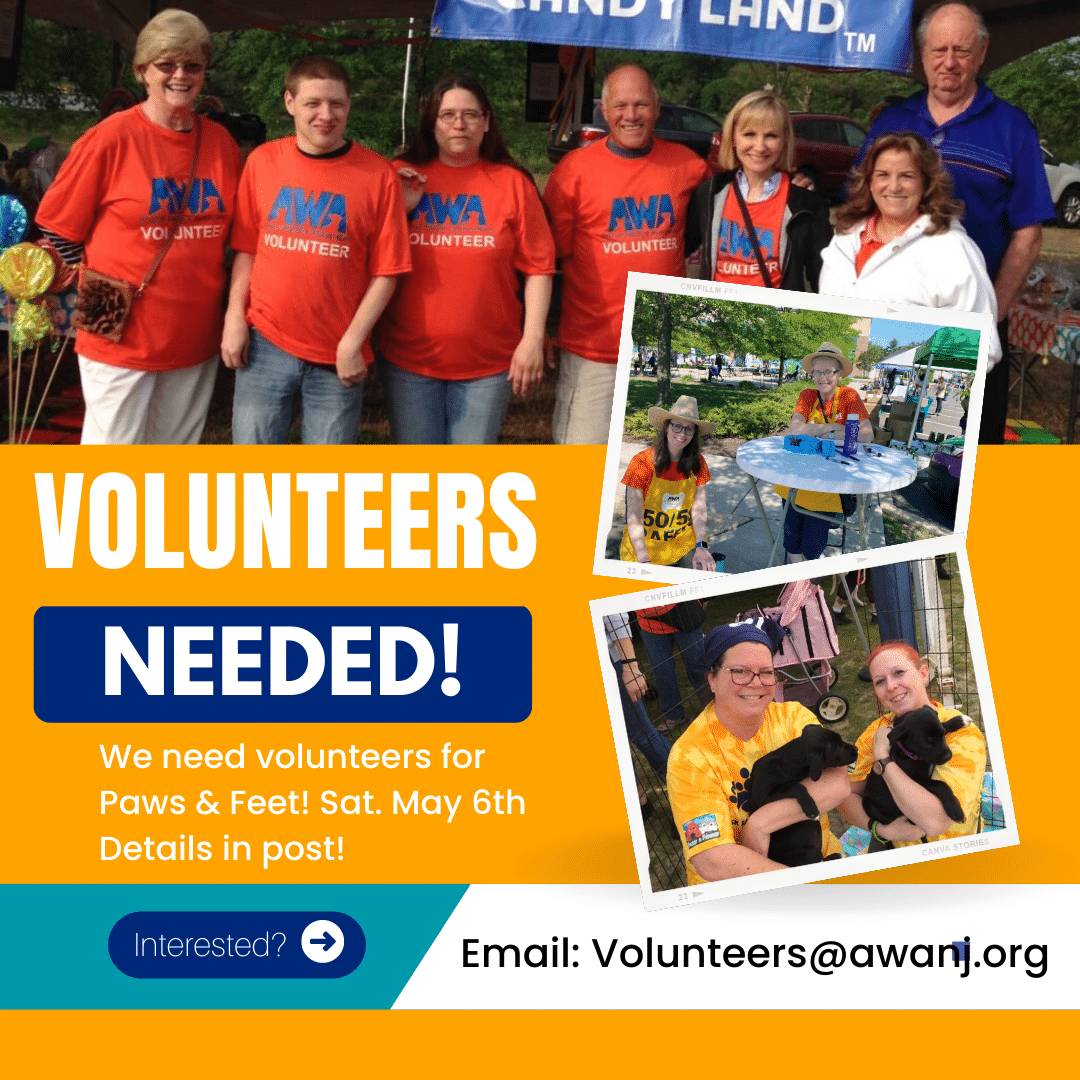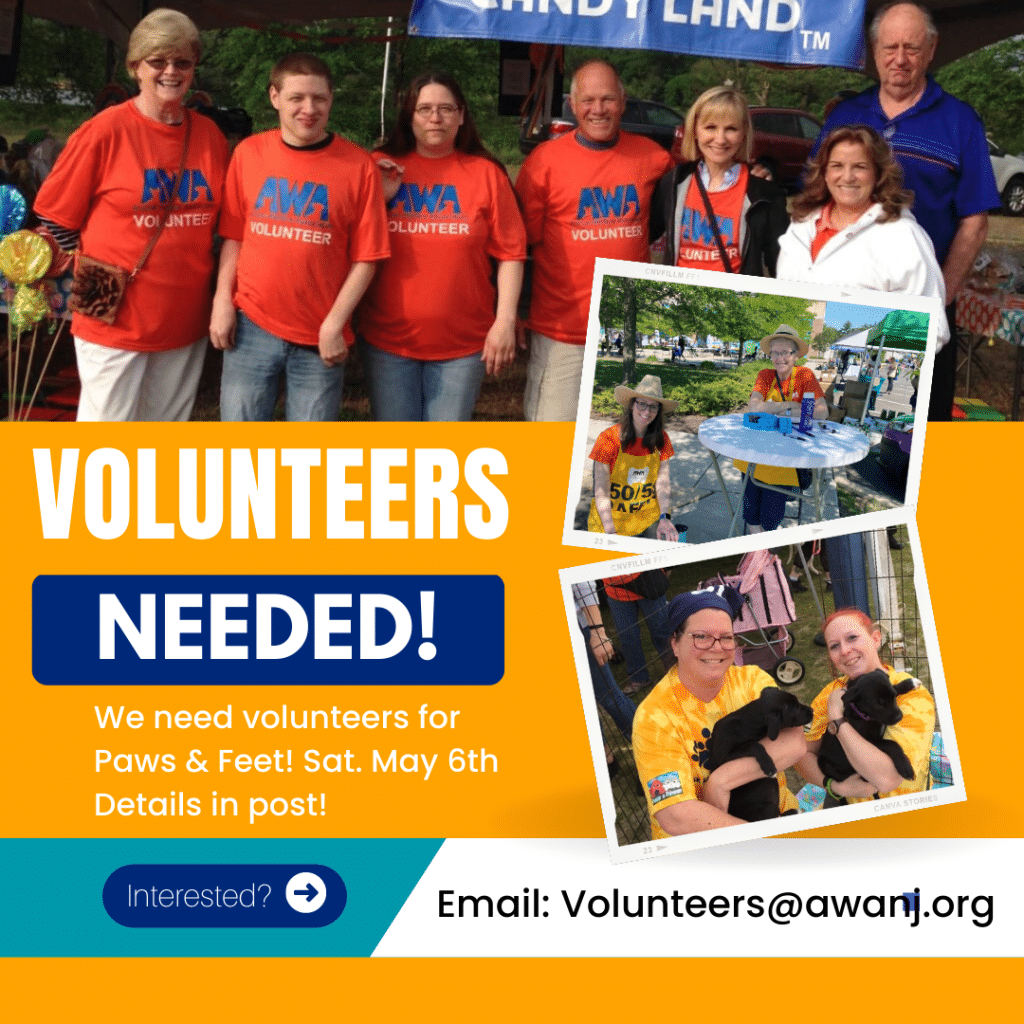 How Your Participation Saves Lives
All of the funds raised during the Paws & Feet 5k & Doggie Fun Day go toward saving the lives of homeless animals year round!
AWA operates the oldest and largest low-cost spay/neuter clinic, adoption center and no kill animal shelter in South Jersey. We do not receive funds from the government or national groups. We rely upon local donations to fund our life-saving programs.
By fundraising for Paws and Feet, you'll impact the lives of the animals in our care. On average – every $1000 raised saves the life of one shelter dog!
2023 Paws & Feet 5k Run/ Walk & Doggie Fun Day sponsored by:
2023 Paws & Feet 5k Run/ Walk & Doggie Fun Day in-kind donations provided by:
Melitta Coffee
Wawa
Better Health Chiropractic
Color Street
Don't Bully Us
Green Compass Global
Humana
168 Tattoo
Aunti Sissy's Treasures
Bark and Bones Bakery
Breakaway Boutique $5 Jewelry
Brotherly Love Cheesesteak Spring Roll Co.
Dee's Creative Chaos
Greenway Pressure Washing
Ott's Voorhees
Camp Bow Wow
The New Maple Hill Restaurant
Maplewood Restaurant Moorestown
Dee's Creative Chaos
Red Bank Veterinary Hospital
30 Strikes Lanes
Tribbles Rescue Corporation
Monster Mini Golf
Hot Wheelz Skating Center
Maple Ave Misfits
Pawesome Pups
Pawsitive Production
Pruvit Ketones
Ruff Cuts Boutique LLC
Saint Rocco's Treats
Hearts 4 Hounds
Jefferson Health
Karen Ink & Pen
Lil Biscuit Bar
Linda's Lovely Crafts
New York Life
Pammy's Wreaths
Farrell Family
Philadelphia Rock Gym
PAWsitively Sweet Bakery
Voorhees Animal Orphanage
Animal Adoption Center
Medford Pet Supplies
Skin Suite by Kristen – Tabernacle
The Little Gym
Philadelphia Wings Lacrosse
PJW Restaurant Group
Top Golf – Mt Laurel
John's Crazy Socks
The Posh Pooch
Woodford Cedar Run Wildlife Refuge
Hearts of Glass LLC
Camden County Animal Response Team
Peacewood Art Studio
Red Bank Veterinary Hospital
Sandy Lane Tumblers
Simply Customs
The Crafting Cop
Orange Theory Fitness- CH
Bistro of Haddonfield
Dorney Park & Wildwater Kingdom
English Garden Gift Shop
Haddonfield Running Store
Happy Hippo Toys
Grazing Goat – Tabernacle
YP Bakes
Dina's House of Cozies
Color Me Mine