We will officially celebrate the opening of the new Adoption & Education Center in June. With just a few more months of construction remaining, everyone is eager to "party like animals!"
What a joy it will be to see the completion of Building a Place Where Happiness Begins! The building is more than bricks and sticks; it is a place where pet lives will be saved and memories made.
Happiness Recap – Our Vision of Happiness is coming alive. Imagine passing garden boxes on your way into a brightly lit lobby and you immediately see a summer camper sitting in the Adirondack chairs listening to the Humane Educator teaching them how to train a shelter pet to "sit."
You head down the Cat Wing and next you spot a senior citizen in her wheelchair twirling a cat wand inside the Community Cat Room. The smile on her face beams. She, and others are from a local nursing home and today they took a "day trip" to AWA.
You see happy people looking to adopt cats before you turn the corner to meet up with the Behavior Manager who is leading a "dog training" class for new volunteers. You both then proceed down to the Training Room. She places in your hand a leash and on the other end is an extremely excited doggy. He just arrived from another shelter and is about to learn "sit!" so he can better assimilate into his new home.
After your session you notice that down the hallway is the Pet Clinic. There, a large dog is waiting with his family. They are there to have him examined as part of the Wellness Services that are offered.
Back up the handicap accessible elevator you ride and make your way back to the front parking lot. A smile crosses your face because you feel the happiness around you, and, you know what you accomplished during your time at AWA mattered.
That is only a fraction of what happens at AWA on a typically joyful day!
Happiness comes from togetherness and when we are connected. Every inch of the new building is designed to connect the mission's work with people. It is a transformational space!
The new building will save the lives of over 2,500 dogs, cats, and bunnies each year with a capacity to hold 65 dogs and 100 cats at one time. Located centrally between the dog and cat wings is the Shelter Medical Ward where animals can be treated and cared for.
The Pet Food Pantry will provide food to so many families who are struggling making it possible to feed their pets and keep them in their homes.
The newly renovated Pet Clinic will provide affordable services to many families struggling with the cost of veterinary care; a place to turn to for vaccinations, wellness examinations, spay/neuter surgery, dental procedures and much more. Returning to pre-pandemic and pre-construction patient levels, the Pet Clinic will once again provide services to over 15,000 dogs and cats annually!
3,000 adults and youth will participate in one of AWA's humane education activities- summer camp, birthday parties and sleepovers, Pet CPR classes, and so much more.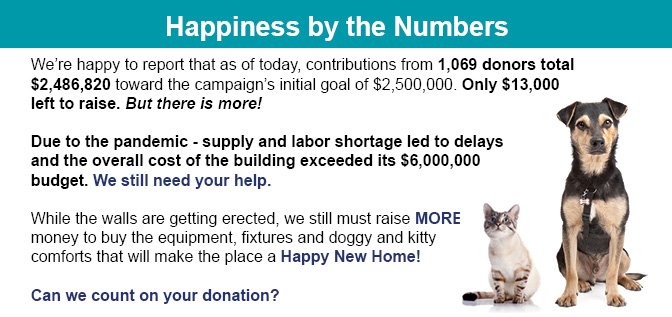 Happiness Happens When People Take Action – This is our Last Call inviting you to be a builder of Happiness, providing a better way of caring for animals for years to come! YOU CAN BE A PART OF SOMETHING BIG – constructing a legacy of love for tomorrow's hurt and homeless animals.
With a gift of $300+ your name will be listed on the Campaign Honor Roll prominently displayed in the Main Entry Way. A gift of $1,000+ and your name will also be displayed on the exclusive North Paw Wall located in one of the Dog Kennels. All donations are welcome, and all donors are invited to attend our Open House Celebration sometime in June. We also have a few naming opportunities still available starting at $2,500 (view here)
Create a Lasting Impact – Give Today!!!
Don't delay, the final list of Happiness donors is turned over to the signage company on May 1st!