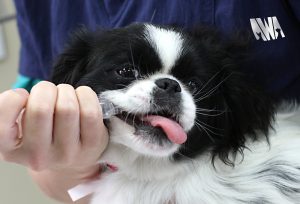 Saturday Vaccine Clinics no appointment is needed and clients will be helped on a first come-first served basis. Upon arrival you will take a number and registration form.
Monday, Tuesday, & Wednesday Vaccine Clinics are appointment only in order to reduce wait times.
Vaccine Days provide healthy pets with their core vaccines and routine tests only. There are no diagnostic or ill pet services provided. The decision to vaccinate an ill animal is at the veterinarian's discretion.
Note that you can purchase flea and tick preventatives at the vaccine clinic.
Please bring prior vaccination records, if available. 
A 3-year rabies vaccine can only be given if proof of previous vaccine is shown. (Must be a certificate, not a tag.) If you do not have proof of a previous rabies vaccine, a 1 year vaccine will be given.
*We are closed on New Year's Day, Memorial Day, Independence Day, Labor Day, Thanksgiving and Christmas